WordPress CMS £399 :
Content Editing
Wealth of extra modules available
Search Engine Optimisation
1 Years Standard Web Hosting
Plesk Access
Free SSL Certificate
WordPress offers a quick and easy way to get an editable website, it features page editing, news/blog posts, comments, and file/document and image resource support.
It has a wealth of extra features available as additional modules with which to extend both website and backend functionality.
Bespoke CMS £699 :
Content Editing
Modules for Image Galleries, Video, News, Events, Enquiries Form, RSS, File Upload.
Search Engine Optimisation
1 Years Standard Web Hosting
Plesk Access
Free SSL Certificate
I have created my own custom bespoke CMS system which enables clients to update their websites with ease.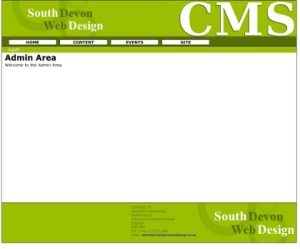 My CMS system offers the ability to edit page meta, content, site elements news, events, and an image and video gallery.
All content is sortable and can be edited with ease using our page content editor
I have tailored my website packages to suit everyone's budget, from my cheap starter packages at £199, and web hosting starting at £30 a year, to my budget ecommerce solutions starting at £499. I also offer development and support for websites not hosted with me at an affordable rate of £25 / hour.
I am happy to give you a quote for whatever your project needs might be, and I will be ready to advise you on the best solution available. Why not contact me with your requirements at today!
Stephen Phillips – Freelance web design and development
Average rating:
6 reviews
Mar 12, 2019
Jonny T. North Shields, GB
Excellent freelancer, thanks for a very quick and easy job.
Mar 12, 2019
Eddie P. City of Westminster, GB
Very good. Job Done!
Mar 12, 2019
Martin N. Wandsworth, GB
From the start, Stephen not only kept us updated at all stages, but also demonstrated an ability to work under his own initiative to get the job done at the highest possible standard. If you are looking for a highly capable programmer, then look no further.
Mar 12, 2019
Thomas B. Wolverhampton, GB
Job done as requested and to timescale. Communicated clearly and was happy to make changes as requested. Recommended.
Mar 12, 2019
Gh G. Manchester, GB
Great guy to work with, and Stephen placed my twitter feed correctly on www.weliketobuy.com see for yourself, it looks great!